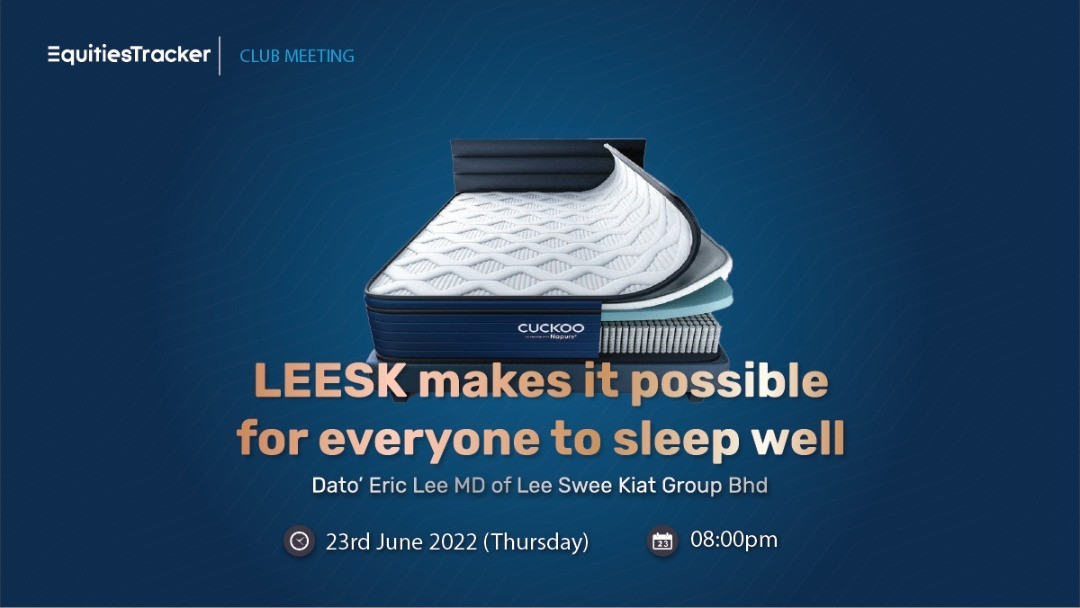 LEESK Makes It Possible For Everyone To Sleep Well
It's a sweet dream for many after Lee Swee Kiat Group Berhad (LEESK) collaborated with Cuckoo to distribute their co-branded latex mattresses in affordable packages.

LEESK is a company with healthy profitability growth and margins and is in a net cash position. The company has also managed their cash well and has paid dividends over the past 6 years.

Can LEESK's growth be accelerated with this collaboration with Cuckoo? Ask the MD yourself in this exclusive ET member only Club Meeting this 23rd June at 8.00pm.

This meeting is going to be held only at EquitiesTracker s office and will not be recorded or live streamed.

So, book your calendar now and make plans to meet the MD of LEESK on 23rd of June, Thursday at 8.00pm.
Type: Invited Guest
Company/Topic: LEESK Makes It Possible For Everyone To Sleep Well
Presenter: Dato Eric Lee MD of Lee Swee Kiat Group Bhd
Price:RM
Venue: 01-8, 8th Floor, Menara Symphony, No. 5, Jalan Professor Khoo Kay Kim, Seksyen 13, 46200 Petaling Jaya, Selangor
Time: 7:30PM - 10:00PM
Sign Up
Sign Up Now
LEESK Makes It Possible For Everyone To Sleep Well